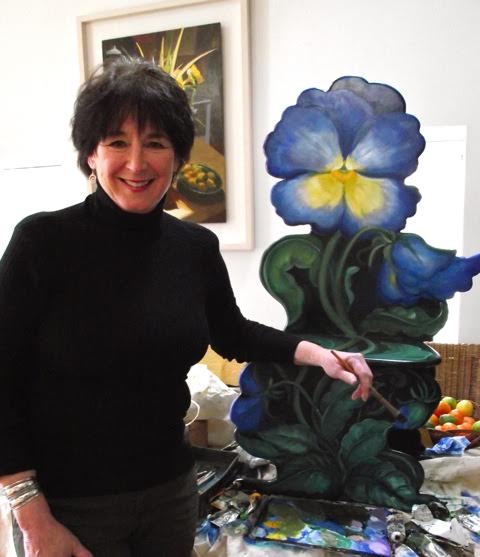 Pamela Silin-Palmer founded Faunus Studio of Decorative Art in 1976 in Berkeley, California. Pamela created one-of-a-kind painted furniture, murals, ceramics, rugs and fabrics, that have been marketed by top designer showrooms and galleries in almost every major city in the United States.
Clients have included Nieman Marcus, Bergdorf-Goodman in NYC (featured in the 5th Avenue Christmas windows) Stars Restaurant in San Francisco, the Disney family, Michael Jackson, Bill Gates, Jay Leno, Danielle Steele, Bette Middler, Jeremiah Tower and many others. The Faunus Studio was recognised by Architectural Digest in 1991 as one of the top studios of decorative art in the West Coast of the United States.
In addition to her decorative art, Pamela has illustrated children books for Rizzoli (The Nightingale and The Wind, 1994) and Random House Books (Bunny and The Beast, 2001; Sleeping Bunny, 2003 and Unicorn Wings, 2006).
Other illustration projects include trademarked greeting cards and paper products such as gift bags, notebooks and stationary created for Leanin' Tree and Sunrise Greetings (now apart of the Hallmark Line), and sold in over 55,000 stores across the United States.
No matter what the medium, Pamela's style explores traditional European designs and palettes, often incorporating numerous twists or juxtapositions. Her artwork spans from traditional florals in the 17th century Dutch style, to whimsical portraits of animals in formal dress.
Pamela is married to Irish artist and designer, Patrick Palmer and relocated with him to Ireland in 2005. They have four grown daughters, six grandchildren and a little dog named Beamer.
To visit Pamels's other website click here: pamelsilinpalmer.com